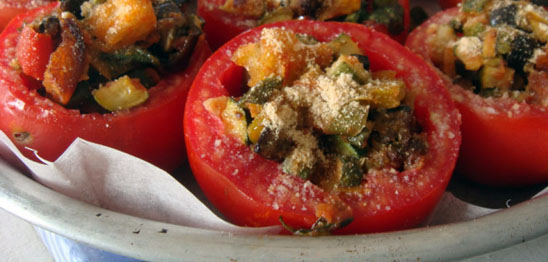 On November 16, UNESCO officially proclaimed the Mediterranean diet good / heritage.
This news has made me immensely happy because the Mediterranean diet is the basis of my work, my philosophy of life and my way of cooking.
In my own small way I fight, sometimes with difficulty and distrust, so that this food model becomes a customary habit for everyone.
Those who know me well know that I do not deny meat and fish but what I cannot do without are vegetables, legumes and cereals.
I decided to dedicate to this very important goal a dish that, although not of this season, contains in itself the colors, the flavors and the principles of this diet.
Approximate doses for 4 people:
4 large tomatoes
10 cherry tomatoes cut into four parts
2 peppers not too big
2 medium aubergines
15 pitted Gaeta olives
1 tablespoon of capers
4 whole and peeled garlic cloves
Basil
Origan
Marjoram
salt
EVO oil q.b.
breadcrumbs (a little)
First turn on the oven at 150 ° then desalinate the capers in hot water, cut the cap with the large tomatoes, empty them of the pulp then salt them and keep them upside down for thirty minutes so that they lose water.
Place them in a baking dish with a low rim and bake them for 15/20 minutes, then remove the water formed inside and set them aside.
Bring the oven to 200 °, cut the peppers into small pieces, peel the aubergines and cut them like the peppers, then season with salt, oil and whole garlic cloves, then place everything in a pan that contains the vegetables on a single layer and bake for twenty minutes.
After the twenty minutes, turn the vegetables and bake again for ten minutes.
When the vegetables are ready, let them cool, then recover a garlic, remove the peel and mash it with a fork, then mix it with the vegetables and add the cherry tomatoes, olives, capers, basil, oregano and marjoram.
Finally, with this mixture, stuff the tomatoes, sprinkle with the grated bread and bake again for 15-20 minutes.
To taste, you can add grated Parmesan or mozzarella to the stuffing.
Before serving, dress with raw extra virgin olive oil.
https://www.francescotramontano.com/wp-content/uploads/2019/12/pomoripieni_548x232.jpg
262
548
plumastudio
https://www.francescotramontano.com/wp-content/uploads/2019/12/logo-2.png
plumastudio
2019-12-09 15:47:48
2019-12-09 15:47:51
mediterranean diet! tomatoes stuffed with aubergines and courgettes