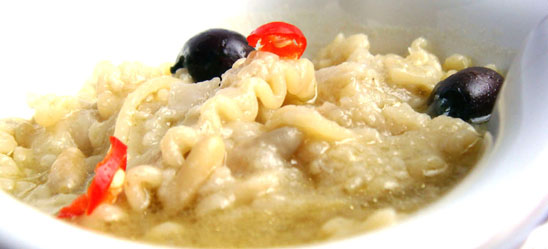 There are no half measures, the cauliflower is either loved or hated!
A few days ago walking through Naples, I entered a building attracted by the beautiful courtyard that could be seen from the street.
Just two steps after the door, I smelled the cauliflower and immediately my memory went back in time to the memories of when as a child I visited my father in the office and Zi Marì (the door) one day out of two cooked the cabbage whose fragrance spread from his kitchen throughout the palace.
This I wrote below is the classic version, a bit brothy, but if you want you can minimize the amount of water and get a sauce with which to season pasta.
For 4 people
1kg cauliflower
3 tablespoons of extra virgin olive oil
1 clove of garlic
10 pitted Gaeta olives
2 tablespoons of pine nuts
boiling water q.b.
150gr of broken tripoline
black pepper
fresh spicy chilli
Wash and wash the cauliflower with florets.
In a large saucepan, sauté the clove of garlic in three tablespoons of extra virgin olive oil.
When the garlic is blond, add the pine nuts and after a while the pitted and halved olives.
Cook for a couple of minutes and add the cauliflower then enough water to cover the cabbage.
When the cauliflower is cooked add the pasta in the same pot and add more boiling water if necessary.
Cook and before serving, sprinkle with black pepper and fresh spicy chilli.
https://www.francescotramontano.com/wp-content/uploads/2019/12/cavolfiore_548x232.jpg
249
548
plumastudio
https://www.francescotramontano.com/wp-content/uploads/2019/12/logo-2.png
plumastudio
2019-12-09 12:38:30
2019-12-09 12:39:03
cauliflower with tripoline, gaeta olives and pine nuts