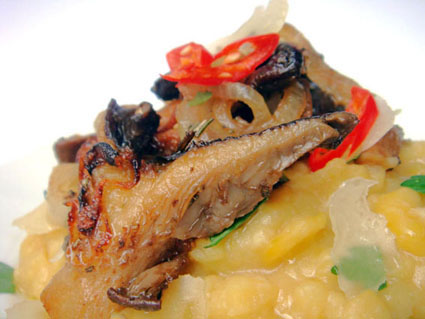 This dish is born from the memory of the flavors of a journey in the fantastic lands of Puglia and Basilicata.
Cities with breathtaking beauties, strong landscapes and rugged land, green landscapes rich in endless olive groves and red earth, cheeses, vegetables, wines, oils, fruit and flavors of millennia to preserve, pass on and let those still unfamiliar know and pass on. the strength of these magical places.
Ingredients for 4 people:
250gr of Cicerchie
500gr of cardoncelli mushrooms
extra virgin olive oil to taste
1 white onion
1 clove of garlic
1 pinch of baking soda
one tablespoon of fresh rosemary needles
a tablespoon of fresh parsley leaves
flakes of Pecorino Canestrato from Moliterno
Soak the chickpeas for one night, then drain, wash and transfer them to a large pot.
Cover the chickpeas with water and let it overtake them by at least 2 fingers, then turn on a strong flame and bring to a boil.
As soon as it boils, add a pinch of baking soda, lower the heat, turn and remove the excess foam, then cook for at least 90 minutes.
Add the salt only after cooking and check that the water level never drops below the grass peas. Whenever necessary, add boiling water.
When the grass peas have been cooked, drain them from the excess water that you will keep aside, pass them over the vegetables, put the puree in a pot and keep it warm in a bain-marie.
If the puree is too solid, add a little of the chickling water.
Clean the mushrooms with a brush and cut them into large pieces, then season them with the sliced ​​onion, the chopped garlic and the needles of the freshly cut rosemary.
Heat a tablespoon of extra virgin olive oil in a non-stick pan and when it is hot, throw a handful of mushrooms into the pan.
Sauté them over high heat and cook them until their water has completely evaporated.
Continue like this until you have finished cooking all the mushrooms.
At this point, divide the mashed cicerchie in four dishes, add the mushrooms, the flakes of pecorino, a few leaves of parsley, if you want fresh spicy chilli and serve accompanying the dish with toast and extra virgin olive oil raw!
https://www.francescotramontano.com/wp-content/uploads/2019/12/7cicefunghi11.jpg
319
425
plumastudio
https://www.francescotramontano.com/wp-content/uploads/2019/12/logo-2.png
plumastudio
2019-12-09 12:49:14
2019-12-09 12:49:17
cicerchie puree with cardoncelli mushrooms and flakes of pecorino canestrato di moliterno